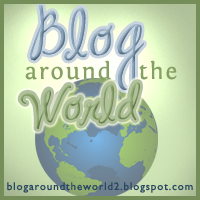 Welcome, BATW'ers! I'm so glad you found your way here today!
(If you don't know what BATW is all about, click on the above image and find out what all the excitement is about!)
I'm sure Daja's blog will be so much more creative than mine today. It usually is. She is a gifted writer (even published!) and her mind just works in a much more creative fashion in all areas than mine!
A quote from my other daughter is much more like me. "My mother says I'm, uh.....um......uh, oh, yeah, quick-witted!"
But welcome, anyway, to where I journal my days. Sometimes I get caught up with life and forget to journal it; other times I forget to see the wonder of the day and so don't journal it; but my goal here is to journal my days as I walk this journey here on earth. Sometimes, it may actually interest some of you. Sometimes, it may only interest my husband who also enjoys every little detail about our grandchildren!
Just a few words about me. I am the mother of six -- three by marriage (update explanation: my children-in-law), and the grandmother of soon-to-be twelve. Yes, can you believe that? And here I am so young and all. My husband and I pastor a small church in a small town. We enjoy life and thank God for His many blessings as we purpose our lives around Him. Oh, and we ride a Goldwing.
So, I live on the Central Coast of California. I'm not just giving you directions on where to look on a map, that is what we call where we live -- The Central Coast of California. It is basically made up of two counties, Santa Barbara and San Luis Obispo. I live in San Luis Obispo County. Our county is divided into South County and North County. I live in North County. Even though there are quite a few towns in both North and South County, we will often just refer to something being in North or South County. Why all that is important to tell you, I have no idea.
You will notice a great many Spanish city names and Saints' names for cities in California. California was settled by the Catholics bringing Christianity to the natives. (very simplified explanation) I'm not Catholic, but the missions are fascinating places to visit. There are twenty-one in all. We have two in San Luis Obispo County -- one in South County, one in North County.
One of the things I always seem to be explaining to people is that I don't live in L.A. California and Los Angeles are not synonymous. I'm a native Californian and have lived in many places here. Some of those places look like the following. Definitely not L.A.

But, what's it like where I live now?
No, this isn't where I live, but I did live in what used to be a caretaker's cottage once. This is
Hearst Castle
, where William Randolph Hearst actually lived and entertained the famous and the infamous of Hollywood. It is reported that one day he said to his architect, "…Miss Morgan, we are tired of camping out in tents at the ranch in San Simeon, I would like to build a little something…" It is now a state park and you can take tours.
I live in the midst of vineyards,
and the road to my house is surrounded by olive and almond trees.
Not far from where I live is this place:
Can you read what it says? The
EARTHQUAKE CAPITOL OF THE WORLD
! Yes, here is where they have equipment buried deep in the earth to register the earthquakes. Yes, I live close to two major fault lines.
Three days before Christmas in 2003, our town suffered extensive damage from a major earthquake.
One of the important reasons for our town existing is the sulphur hot springs. A upscale resort was built and attracted folks from all over to come bathe in the healing springs. Our town boasts the famous -- Paderewski lived here, and the infamous -- Jesse James and his gang had hide-out tunnels under said resort. I guess they all came to enjoy the hot springs! They (the springs, not the outlaws) are still here, but aren't the big draw anymore.
One of the more interesting things that happened during the earthquake was a HUGE spring came shooting forth out of our library/city hall parking lot! The hot sulphur water flowed through town for days before it could be re-routed. It's hard to shut off a geyser. People sat on curbs soaking their feet! It is still flowing and being pumped into a river that flows through town. (The sulphur can still be smelled once in awhile and in certain places.) However, the sinkhole is still there and they don't really know what to do about it. So, there's a big fence around the hole in the parking lot and we lost a big part of our downtown parking!
This picture was taken toward the bottom, but that's about 100 - 150 feet down!
One of my favorite things about our town is the city park. Isn't it pretty?

The park is used quite a bit. There are wine festivals, olive festivals, farmers' markets, car shows, and concerts. I blogged about how much fun those concerts are here. A very special thing happened in that gazebo. One anniversary, my husband presented me with dinner right in the gazebo! Catered with linen, crystal, and roses. Serenaded by violinists! Just like in the movies! Isn't he the most romantic?
A couple more fun things about my town.
One Saturday night each December, about ten blocks of a popular street are blocked off and every house is decorated and offers something to eat or entertain you. This evening attracts people from far and wide and about 10,000 people crowd into those ten blocks during the evening. You are greeted by carolers and entertained by dance troupes. You can visit Scrooge's house where he keeps yelling at you to go away (probably the biggest crowd is around this house) or you can come by where my church's worship team is singing and handing out hot chocolate. You can view living Nativity scenes and send a letter to Santa Claus. You come home with your pockets laden with candy canes and your fingers sticky from cotton candy. You also come home with the Christmas spirit launched for the season!
A grand thing about our town is that it hosts the California Mid-State Fair. It is twelve days long and brings the hottest names in entertainment to this little place. It's amazing.
Actually, the fairgrounds have now been re-named. It is now called the Event Center. Probably more aptly named, but not as old-fashioned as "fairgrounds". I doubt that there is a weekend all year long that something isn't happening there. From horse shows to home shows, from bike runs to gala events. For being a small town, we have a lot happening here. That's what we get for being halfway between San Francisco and Los Angeles and on a major highway, I guess.
I was going to tell you a bit about South County and the coast, where we used to live, but I think you're probably tired of reading by now. So, I'll keep Madonna Inn, Bubblegum Alley, the sand dunes, our tourist towns, and our university for another time. I'll leave you with a few pictures and you can guess which one is which!
Thank you for visiting today. I so enjoyed having you. Please come again. I'll be seeing you around your place!